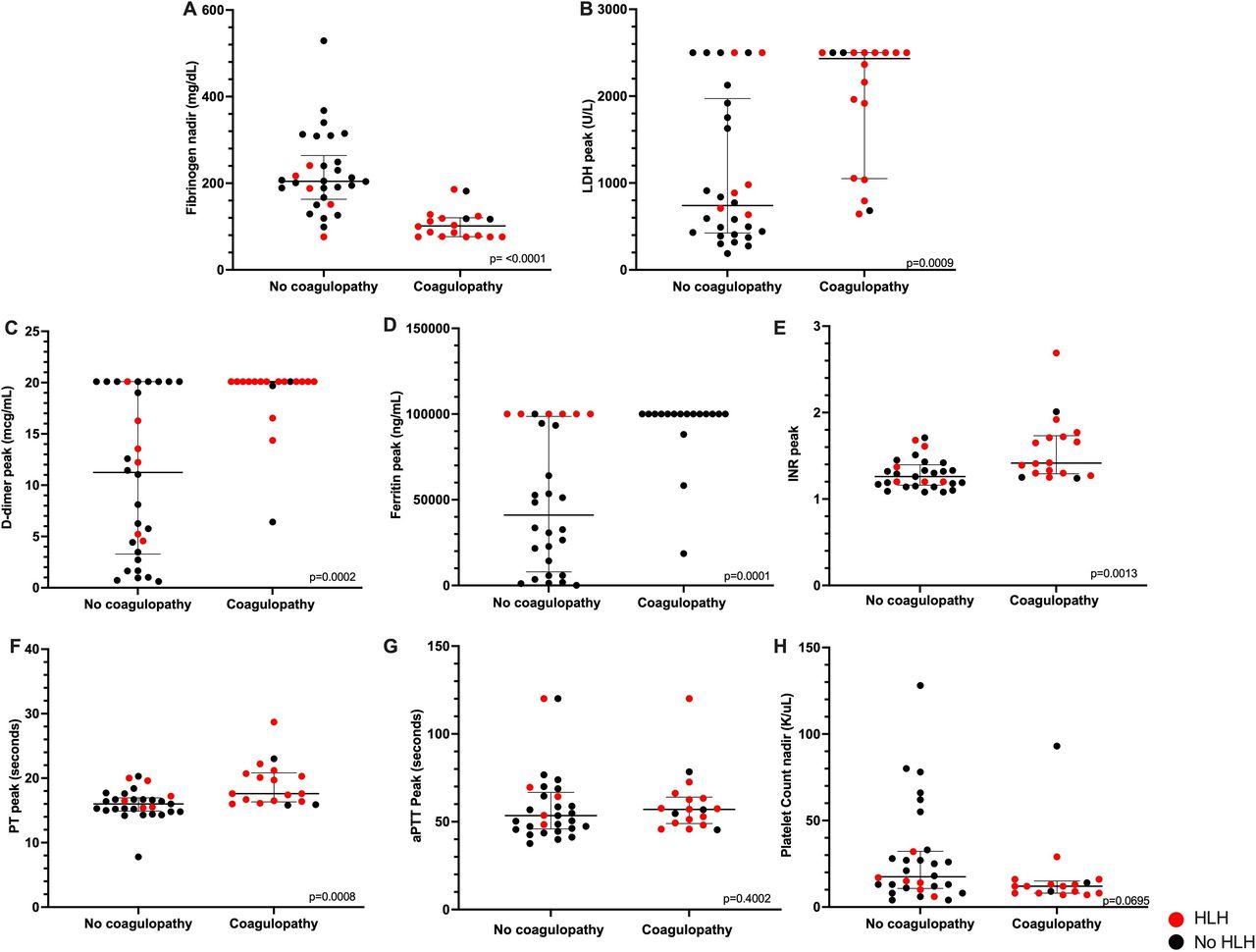 Jennifer Jess, Bonnie Yates, Alina Dulau-Florea, Kevin Parker, Jon Inglefield, Dan Lichtenstein, Fiorella Schischlik, Martin Ongkeko, Yanyu Wang, Shilpa Shahani, Ann Cullinane, Hannah Smith, Eli Kane, Lauren Little, Dong Chen, Terry J Fry, Haneen Shalabi, Hao-Wei Wang, Ansuman Satpathy, Jay Lozier, Nirali N Shah
Journal for ImmunoTherapy of Cancer, 9 June 2023
Background: Hematologic toxicities, including coagulopathy, endothelial activation, and cytopenias, with CD19-targeted chimeric antigen receptor (CAR) T-cell therapies correlate with cytokine release syndrome (CRS) and neurotoxicity severity, but little is known about the extended toxicity profiles of CAR T-cells targeting alternative antigens. This report characterizes hematologic toxicities seen following CD22 CAR T-cells and their relationship to CRS and neurotoxicity.
Methods: We retrospectively characterized hematologic toxicities associated with CRS seen on a phase 1 study of anti-CD22 CAR T-cells for children and young adults with relapsed/refractory CD22+ hematologic malignancies. Additional analyses included correlation of hematologic toxicities with neurotoxicity and exploring effects of hemophagocytic lymphohistiocytosis-like toxicities (HLH) on bone marrow recovery and cytopenias. Coagulopathy was defined as evidence of bleeding or abnormal coagulation parameters. Hematologic toxicities were graded by Common Terminology Criteria for Adverse Events V.4.0.
Results: Across 53 patients receiving CD22 CAR T-cells who experienced CRS, 43 (81.1%) patients achieved complete remission. Eighteen (34.0%) patients experienced coagulopathy, of whom 16 had clinical manifestations of mild bleeding (typically mucosal bleeding) which generally subsided following CRS resolution. Three had manifestations of thrombotic microangiopathy. Patients with coagulopathy had higher peak ferritin, D-dimer, prothrombin time, international normalized ratio (INR), lactate dehydrogenase (LDH), tissue factor, prothrombin fragment F1+2 and soluble vascular cell adhesion molecule-1 (s-VCAM-1). Despite a relatively higher incidence of HLH-like toxicities and endothelial activation, overall neurotoxicity was generally less severe than reported with CD19 CAR T-cells, prompting additional analysis to explore CD22 expression in the central nervous system (CNS). Single-cell analysis revealed that in contrast to CD19 expression, CD22 is not on oligodendrocyte precursor cells or on neurovascular cells but is seen on mature oligodendrocytes. Lastly, among those attaining CR, grade 3-4 neutropenia and thrombocytopenia were seen in 65% of patients at D28.
Conclusion: With rising incidence of CD19 negative relapse, CD22 CAR T-cells are increasingly important for the treatment of B-cell malignancies. In characterizing hematologic toxicities on CD22 CAR T-cells, we demonstrate that despite endothelial activation, coagulopathy, and cytopenias, neurotoxicity was relatively mild and that CD22 and CD19 expression in the CNS differed, providing one potential hypothesis for divergent neurotoxicity profiles. Systematic characterization of on-target off-tumor toxicities of novel CAR T-cell constructs will be vital as new antigens are targeted.