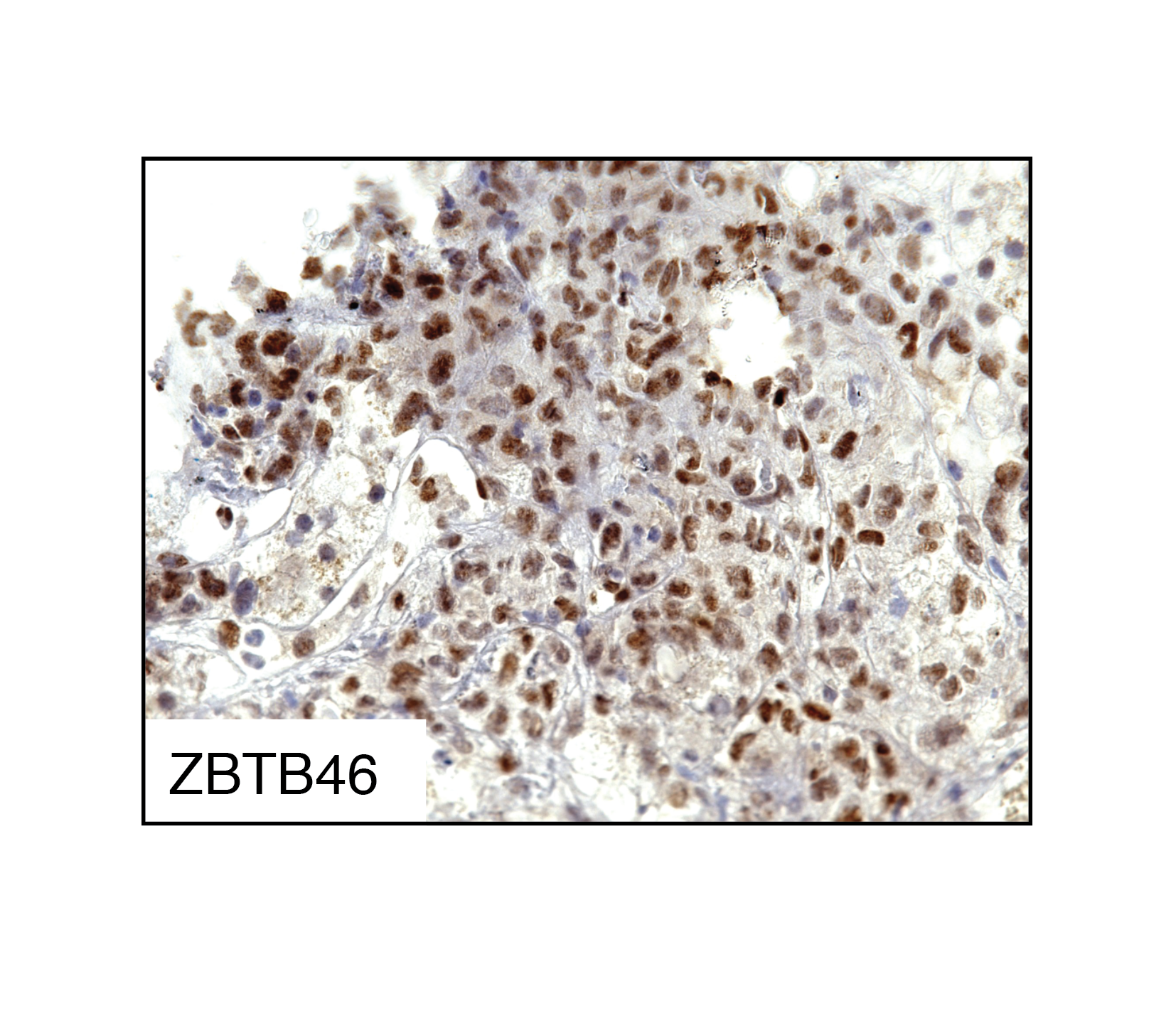 Satpathy AT*#, Brown RA*, Gomulia E, Briseno CG, Mumbach MR, Pan Z, Murphy KM, Natkunam Y, Chang HY, Kim J. *contributed equally, #corresponding author
Modern Pathology, 1 September 2018
Distinguishing classical dendritic cells from other myeloid cell types is complicated by the shared expression of cell surface markers. ZBTB46 is a zinc finger and BTB domain-containing transcription factor, which is expressed by dendritic cells and committed dendritic cell precursors, but not by plasmacytoid dendritic cells, monocytes, macrophages, or other immune cell populations. In this study, we demonstrate that expression of ZBTB46 identifies human dendritic cell neoplasms. We examined ZBTB46 expression in a range of benign and malignant histiocytic disorders and found that ZBTB46 is able to clearly define the dendritic cell identity of many previously unclassified histiocytic disease subtypes. In particular, all examined cases of Langerhans cell histiocytosis and histiocytic sarcoma expressed ZBTB46, while all cases of blastic plasmacytoid dendritic cell neoplasm, chronic myelomonocytic leukemia, juvenile xanthogranuloma, Rosai-Dorfman disease, and Erdheim-Chester disease failed to demonstrate expression of ZBTB46. Moreover, ZBTB46 expression clarified the identity of diagnostically challenging neoplasms, such as cases of indeterminate cell histiocytosis, classifying a fraction of these entities as dendritic cell malignancies. These findings clarify the lineage origins of human histiocytic disorders and distinguish dendritic cell disorders from all other myeloid neoplasms.