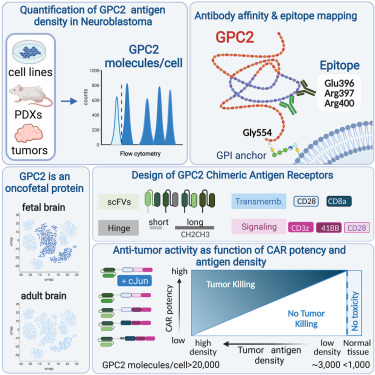 Heitzeneder S, Bosse KR, Zhu Z, Zhelev D, Majzner RG, Radosevich MT, Dhingra S, Sotillo E, Buongervino S, Pascual-Pasto G, Garrigan E, Xu P, Huang J, Salzer B, Delaidelli A, Raman S, Cui H, Martinez B, Bornheimer SJ, Sahaf B, Alag A, Fetahu IS, Hasselblatt M, Parker KR, Anbunathan H, Hwang J, Huang M, Sakamoto K, Lacayo NJ, Klysz DD, Theruvath J, Vilches-Moure JG, Satpathy AT, Chang HY, Lehner M, Taschner-Mandl S, Julien JP, Sorensen PH, Dimitrov DS, Maris JM, Mackall CL.
Cancer Cell, 10 January 2022
Pediatric cancers often mimic fetal tissues and express proteins normally silenced postnatally that could serve as immune targets. We developed T cells expressing chimeric antigen receptors (CARs) targeting glypican-2 (GPC2), a fetal antigen expressed on neuroblastoma (NB) and several other solid tumors. CARs engineered using standard designs control NBs with transgenic GPC2 overexpression, but not those expressing clinically relevant GPC2 site density (∼5,000 molecules/cell, range 1-6 × 103). Iterative engineering of transmembrane (TM) and co-stimulatory domains plus overexpression of c-Jun lowered the GPC2-CAR antigen density threshold, enabling potent and durable eradication of NBs expressing clinically relevant GPC2 antigen density, without toxicity. These studies highlight the critical interplay between CAR design and antigen density threshold, demonstrate potent efficacy and safety of a lead GPC2-CAR candidate suitable for clinical testing, and credential oncofetal antigens as a promising class of targets for CAR T cell therapy of solid tumors.