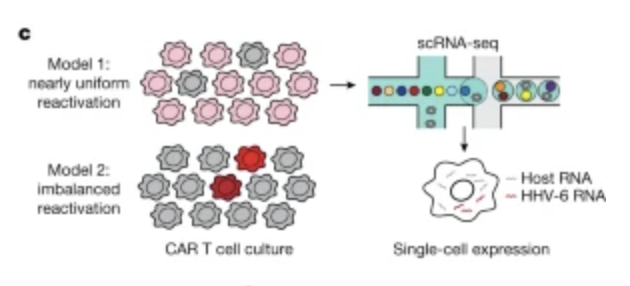 Caleb A Lareau, Yajie Yin, Katie Maurer, Katalin D Sandor, Bence Daniel, Garima Yagnik, José Peña, Jeremy Chase Crawford, Anne M Spanjaart, Jacob C Gutierrez, Nicholas J Haradhvala, Janice M Riberdy, Tsion Abay, Robert R Stickels, Jeffrey M Verboon, Vincent Liu, Frank A Buquicchio, Fangyi Wang, Jackson Southard, Ren Song, Wenjing Li, Aastha Shrestha, Laxmi Parida, Gad Getz, Marcela V Maus, Shuqiang Li, Alison Moore, Zachary J Roberts, Leif S Ludwig, Aimee C Talleur, Paul G Thomas, Houman Dehghani, Thomas Pertel, Anshul Kundaje, Stephen Gottschalk, Theodore L Roth, Marie J Kersten, Catherine J Wu, Robbie G Majzner, Ansuman T Satpathy
Nature, 8 November 2023
Cell therapies have yielded durable clinical benefits for patients with cancer, but the risks associated with the development of therapies from manipulated human cells are understudied. For example, we lack a comprehensive understanding of the mechanisms of toxicities observed in patients receiving T cell therapies, including recent reports of encephalitis caused by reactivation of human herpesvirus 6 (HHV-6)1. Here, through petabase-scale viral genomics mining, we examine the landscape of human latent viral reactivation and demonstrate that HHV-6B can become reactivated in cultures of human CD4+ T cells. Using single-cell sequencing, we identify a rare population of HHV-6 'super-expressors' (about 1 in 300-10,000 cells) that possess high viral transcriptional activity, among research-grade allogeneic chimeric antigen receptor (CAR) T cells. By analysing single-cell sequencing data from patients receiving cell therapy products that are approved by the US Food and Drug Administration2 or are in clinical studies3-5, we identify the presence of HHV-6-super-expressor CAR T cells in patients in vivo. Together, the findings of our study demonstrate the utility of comprehensive genomics analyses in implicating cell therapy products as a potential source contributing to the lytic HHV-6 infection that has been reported in clinical trials1,6-8 and may influence the design and production of autologous and allogeneic cell therapies.