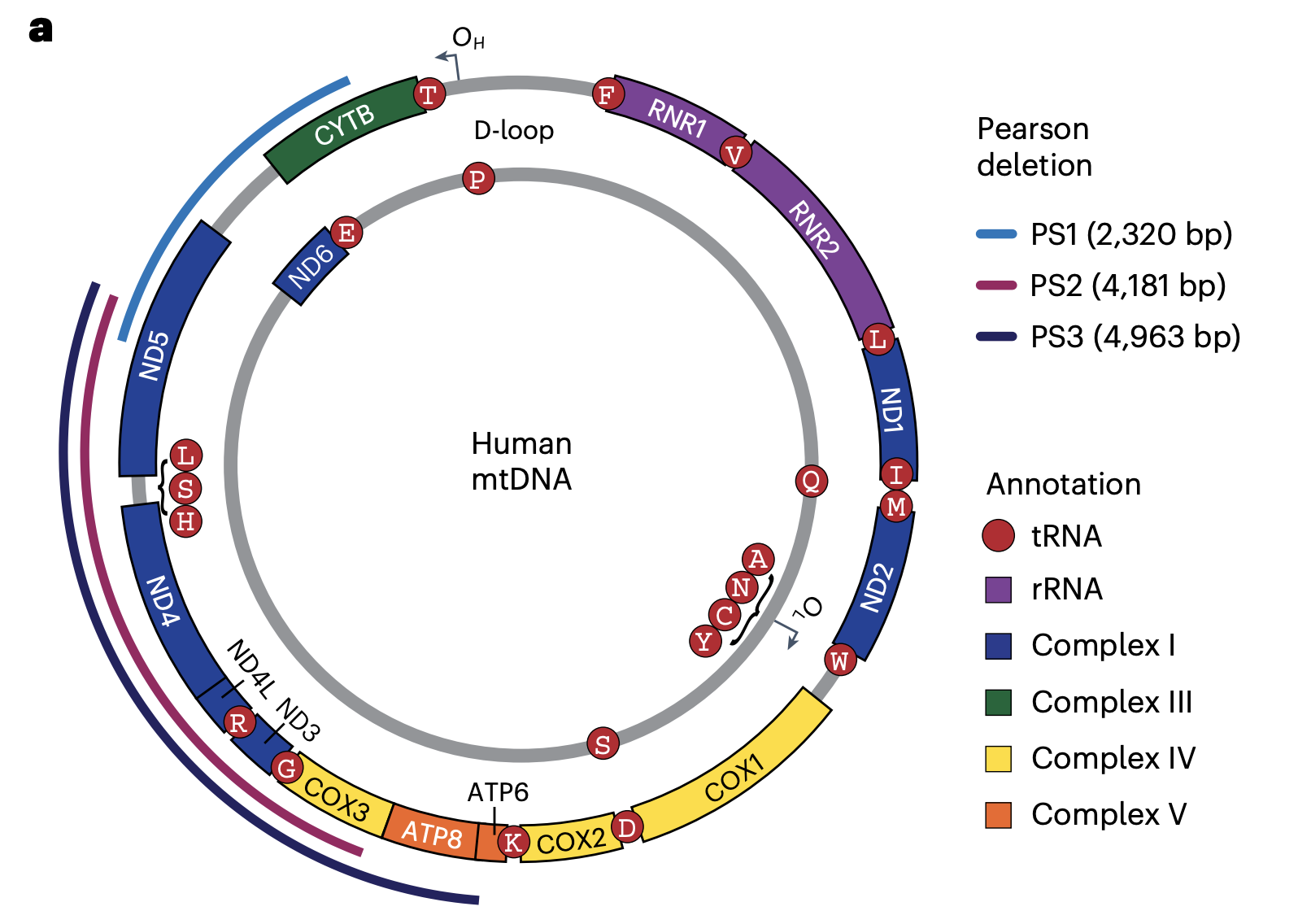 Caleb A. Lareau, Sonia M. Dubois, Frank A. Buquicchio, Yu-Hsin Hsieh, Kopal Garg, Pauline Kautz, Lena Nitsch, Samantha D. Praktiknjo, Patrick Maschmeyer, Jeffrey M. Verboon, Jacob C. Gutierrez, Yajie Yin, Evgenij Fiskin, Wendy Luo, Eleni P. Mimitou, Christoph Muus, Rhea Malhotra, Sumit Parikh, Mark D. Fleming, Lena Oevermann, Johannes Schulte, Cornelia Eckert, Anshul Kundaje, Peter Smibert, Santosha A. Vardhana, Ansuman T. Satpathy, Aviv Regev, Vijay G. Sankaran, Suneet Agarwal & Leif S. Ludwig
Nature Genetics, 29 June 2023
Pathogenic mutations in mitochondrial DNA (mtDNA) compromise cellular metabolism, contributing to cellular heterogeneity and disease. Diverse mutations are associated with diverse clinical phenotypes, suggesting distinct organ- and cell-type-specific metabolic vulnerabilities. Here we establish a multi-omics approach to quantify deletions in mtDNA alongside cell state features in single cells derived from six patients across the phenotypic spectrum of single large-scale mtDNA deletions (SLSMDs). By profiling 206,663 cells, we reveal the dynamics of pathogenic mtDNA deletion heteroplasmy consistent with purifying selection and distinct metabolic vulnerabilities across T-cell states in vivo and validate these observations in vitro. By extending analyses to hematopoietic and erythroid progenitors, we reveal mtDNA dynamics and cell-type-specific gene regulatory adaptations, demonstrating the context-dependence of perturbing mitochondrial genomic integrity. Collectively, we report pathogenic mtDNA heteroplasmy dynamics of individual blood and immune cells across lineages, demonstrating the power of single-cell multi-omics for revealing fundamental properties of mitochondrial genetics.